We have a new coupon book that gets us pretty much through the entire month of June at BJ's Wholesale club.
Below you will find 11 deals that are all $5 or less! These are ones you will want to pay attention to and try to grab before the offer expires.
These booklets get sent to BJ's Members in the mail. You can pick up an extra copy or check to see if your local club has a swap coupon bin near customer service.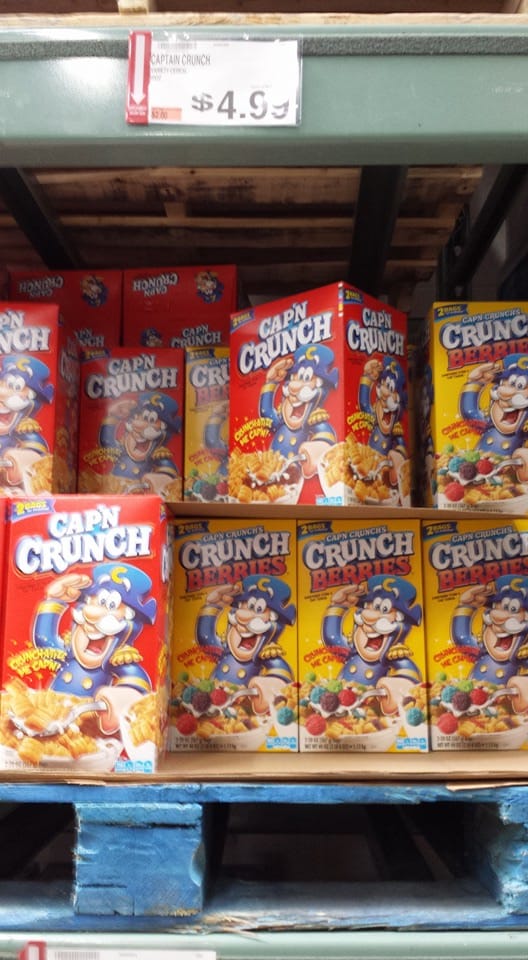 $2.00/1 Cap'n Crunch or Life Cereal (BJ's Coupon) – BJ's Member Savings Booklet (exp. 06/19/17)
Final Price: $2.99
Virginia Brand Twin Dressing 2 pk. 36 oz – $5.69
$1.00/1 Virginia Bran Twin Dressing (BJ's Coupon) – BJ's Member Savings Booklet; Includes 2 pk 36 oz Only (exp. 06/19/17)
Final Price: $4.69
Cape Cod, Kettle Chips or Late July Tortillas – $3.99
$1.00/1 Cape Cod, Kettle Chips or Late July Tortillas (BJ's Coupon) – BJ's Member Savings Booklet (exp. 06/19/17)
Final Price: $2.99
Popcorn Indiana Drizzle Black and White – $5.99
$1.50/1 Popcorn Indiana Drizzle Black and White (BJ's Coupon) – BJ's Member Savings Booklet; clipless coupon (exp. 06/19/17)
Final Price: $4.49
Sensible Portions Garden Veggie Straws 20 oz – $4.99
$1.50/1 Sensible Portions Garden Veggie Straws (BJ's Coupon) – BJ's Member Savings Booklet; Includes 20 oz Only (exp. 06/19/17)
Final Price: $3.49
Finlandia Imported Butter, 3 ct – $5.99
Final Price: $1.49
Buy 1; Use (3) $1.00/1 coupons; Use $1.50/1 BJs coupon
Frigo Cheeseheads Light or Swirls 36 ct – $6.99
$1.00/1 Frigo Cheese Heads – 5-7-17 SS; Includes 8 ct or Larger Only (exp. 11/30/17)

Stacks With 

$2.00/1 Frigo Cheeseheads Light or Swirls (BJ's Coupon) – BJ's Member Savings Booklet; Includes 36 ct Only (exp. 06/19/17)
Final Price: $3.99
Wellsley Farms NonFat Plain or Greek Yogurt 40 oz – $3.99
$1.00/1 Wellsley Farms NonFat Plain or Greek Yogurt (BJ's Coupon) – BJ's Member Savings Booklet; Clipless coupon; Includes 40 oz Only (exp. 06/19/17)
Final Price: $2.99
Breyer's Blast Oreo Cookies and Cream Ice Cream 64 oz – $3.99
$2.00/1 Breyer's Item (BJ's Coupon) – BJ's Member Savings Booklet (exp. 06/19/17)
Final Price: $1.99
Skintimate Shave Gel 3 pk – $7.99
$1.00/1 Edge or Skintimate Shave Gel – 5-14-17 SS; Excludes 2.75 oz (exp. 06/04/17)

Stacks With 

$2.00/1 Edge or Skintimate Item (BJ's Coupon) – BJ's Member Savings Booklet (exp. 06/19/17)
Final Price: $2.24
Buy 1; Use (3) $1.00/1 coupons; Use $2.00/1 BJs coupon; Includes Checkout 51 offer
 Ball Park Hamburger or Hot Dog Buns 12 ct. $2.59
Use the $0.55/1 BJs coupon and
Use the $0.55/1 Ball Park Hot Dog Product – 4-30-17 RP (exp 06/11/17) OR Printable coupon here
Final Price: $1.49
CLICK HERE FOR MORE BJS DEALS!  Come Hang and Score Deals with us on Tiktok too!  $20 BJ's Membership Deal HERE
MyBJsWholesale may earn a small commission via affiliate links in this post.  Read  full disclosure here