Welcome to MyBJsWholesale, where we help you save money on your weekly grocery trips to the club and beyond. This site is NOT affiliated with BJ's Wholesale Club.
You can expect monthly and bi-weekly coupon matchups, where you will learn how to stack manufacturer coupons with BJ's in-store coupons. I'll also show you unadvertised deals called Clipless Coupons, for discounts at the register. No coupon required.
Look for other ways to save, such as:
– Baby coupons
– Organic and natural deals
– Scenarios (showing you the best prices with coupons)
– Shopping trips
– Deals to Meals (recipes made from food bought at BJ's)
The most popular feature is the MyBJsWholesale Price Book, where you can plan your shopping trip and be sure you are getting the best price in comparison to other stores.
Brand New to Couponing? Start here.
Looking for a partnership? Check out our media kit here.
Meet Tasia The Girl Behind The Blog: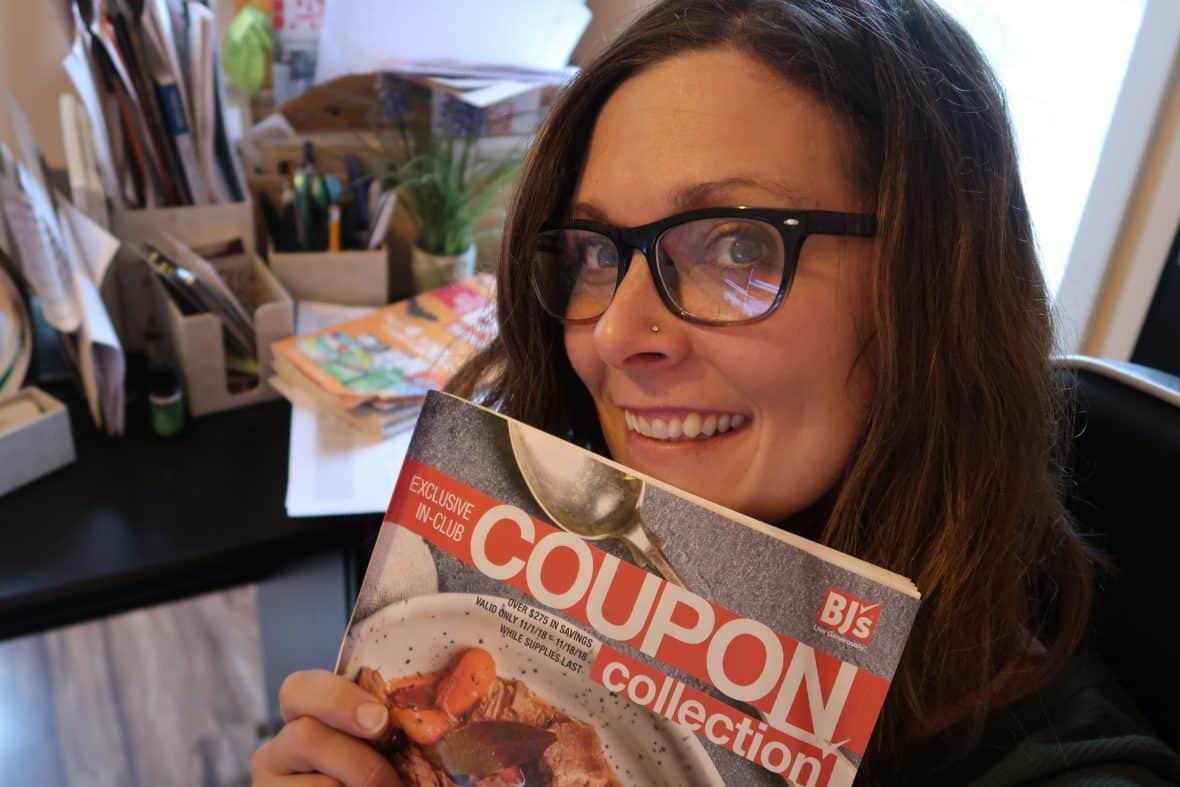 It's high time you got to know the wizard behind the curtain, the maestro of markdowns, the queen of coupons herself – Tasia.
Now, Tasia isn't just your average, run-of-the-mill saver. Oh no, she's a bona fide savings superstar. She's been in the couponing game since before it was cool, back when people would look at you funny for spending Sunday morning cutting up newspapers instead of reading them. 😅
But Tasia didn't care about the strange looks or the paper cuts. She knew that every coupon she clipped was another step towards financial freedom. And boy, did she step! Fast forward a few years, and Tasia is living the dream – a debt-free life, all thanks to her frugal ways.
But here's the thing about Tasia – she's not just satisfied with saving money. She wants to save the world too (or at least, her little corner of it). That's why she started homesteading, growing her own food, raising chickens, and living in harmony with the land.
She found joy in the simplicity of this lifestyle, and she wanted to share that joy with others. So, she started her second blog, The Frugal Farm Girl, where she shares her adventures in homesteading and frugal living.
Tasia is the kind of person who can turn a $100 grocery bill into a $10 one, then use the savings to buy a chicken coop (and probably build it herself). She's the kind of person who sees a price tag not as a fixed cost, but as a challenge.
She is our fearless leader here at My BJ's Wholesale Blog, constantly inspiring us with her dedication, her ingenuity, and her unwavering belief that a good deal is always just around the corner.
So here's to Tasia – may your coupons always be valid, your chickens always lay eggs, and your garden forever bloom. We're all so lucky to follow along on your journey! 💖💰🏡
Also, connect with us on Twitter, Facebook, Pinterest, Instagram, and Google+.
We'd love to hear from you!
Share a deal or just say hi!  Feel free to email me at [email protected]
THE TEAM:
Taylor- The Coolest ( I did that I'm his sister)
Based in Pittsburgh specialty in contemporary art and b/w photography. aspiring beekeeper and lover of cheese. Crohn's disease advocate. You will see him sharing the best online deals and tips for shopping at Aldi. Join our Online Deals Only FB group!
I brought my brother Taylor on in November of 2017. You know God's sense of humor is something isn't? Two things I would have told you the day I graduated college would be:
I am not going to write about being cheap and helping others save money- I don't even like the name BJ's Wholesale club.
I would NEVER work with my brother.
Yep, life does that to you. What a fantastic thing when you are open to the possibilities. This has been one of the best decisions I've made as a blogger. The site has only grown since he's been on board. I think it's safe to say we all love him.
Taylor is also one of the strongest people I know. He went through the terrible battle of living in hospitals for a few years. It was a very challenging time for the entire family. I won't give away his story, but I know this guy is amazing.
We hope you stick around and hang out with us! Catch us LIVE on our Facebook page! We started price comparing at stores which is fun.
Hang out save money and laugh while you are here.
We hope to see our team fill up even more over the years!
Use the form below to contact us to submit a deal or inquire about sponsored posts.
Read our Privacy Policy Here.
CLICK HERE FOR MORE BJS DEALS!  Come Hang and Score Deals with us on Tiktok too!  $20 BJ's Membership Deal HERE