Welcome to MyBJsWholesale, where I help you save money on your weekly grocery trips to the club and beyond. This site is NOT affiliated with BJ's Wholesale club.
You can expect monthly and bi-weekly coupon matchups, where you will learn how to stack manufacturer coupons with BJ's in-store coupons. I'll also show you unadvertised deals called Clipless Coupons, for discounts at the register. No coupon required.
Look for other ways to save, such as:
– Baby coupons
– Organic and natural deals
– Scenarios (showing you the best prices with coupons)
– Shopping trips
– Deals to Meals (recipes made from food bought at BJ's)
The most popular feature is the MyBJsWholesale Price Book, where you can plan your shopping trip and be sure you are getting the best price in comparison to other stores.
Brand New to Couponing? Start here.
Looking for a partnership? Check out our media kit here.
Meet Tasia The Girl Behind The Blog: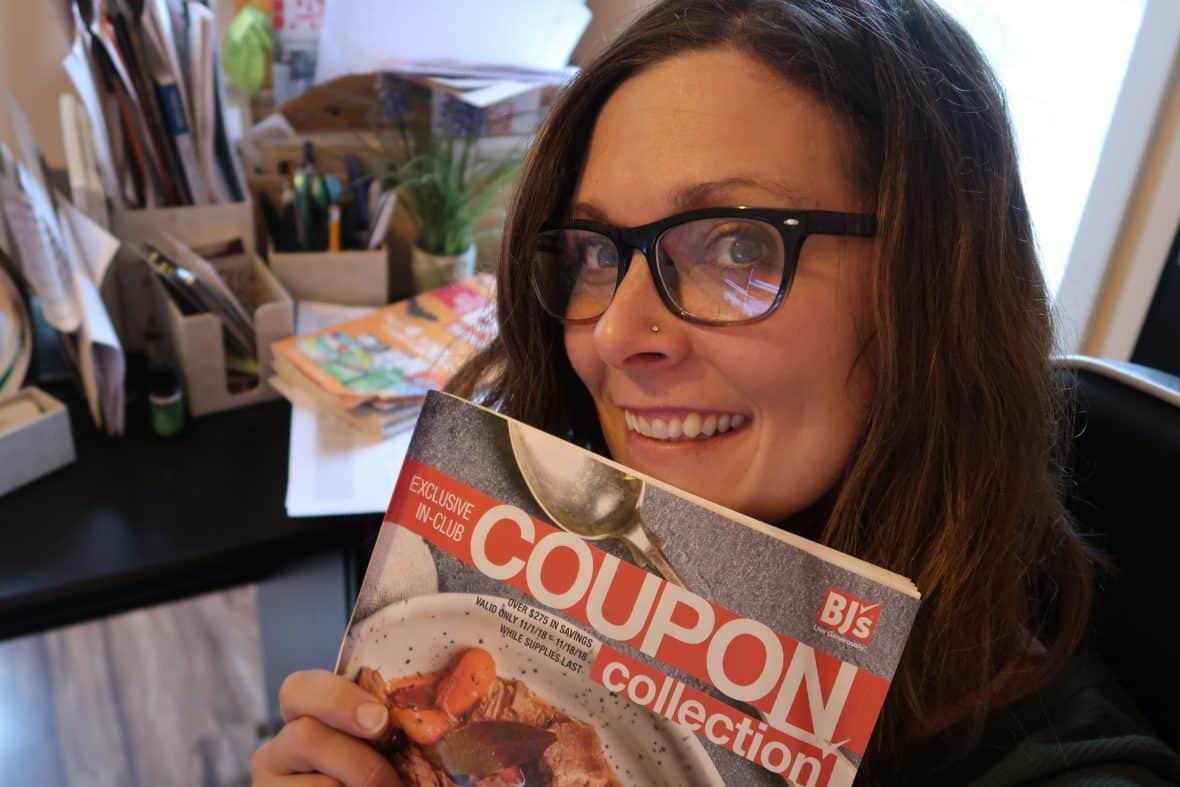 HEY! I'm Tasia. I am a wife and mother to 2 young girls! (You will see the girls on my weekly shopping trips!) We have a German Shepard lab dog, a lab puppy, cat, chickens, ducks, barn cats, mini pigs and more coming!
I started really couponing when I stayed home with my first baby and then fell in love with savings. I was already cheap, but now I am frugal! I went back to work when I was pregnant with our 2nd daughter and in 18 months we paid off our debt except for our mortgage.
The goal is to now work on our mortgage. If I make any money from this site, I'm going to discipline myself to put it on our mortgage. It's a crazy concept I know but living simply is beautiful and inspiring.
I hope to inspire you here and help you save money!
I'm BIG on giveaways. I've been through hardships where I thought I wouldn't make it another day. I've learned to keep going to never give up the fight. I've been broke, and I've overcome.
I encourage you right now to keep fighting. If money is tight do not give up. If life seems hopeless do not give up.
We do weekly giveaways on the blog. AND every November we do our reader's favorite the 20 days of giveaways.
Also, connect with me on Twitter, Facebook, Pinterest, Instagram, and Google+.
I'd love to hear from you!
Share a deal or just say hi! Feel free to email me at [email protected]
THE TEAM:
Taylor- The Coolest ( I did that I'm his sister)
Based in Pittsburgh specialty in contemporary art and b/w photography. aspiring beekeeper and lover of cheese. Crohn's disease advocate. You will see him sharing the best online deals and tips for shopping at Aldi. Join our Online Deals Only FB group!
I brought my brother Taylor on in November of 2017. You know God's sense of humor is something isn't? Two things I would have told you the day I graduated college would be:
I am not going to write about being cheap and helping others save money- I don't even like the name BJ's Wholesale club.
I would NEVER work with my brother.
Yep, life does that to you. What a fantastic thing when you are open to the possibilities. This has been one of the best decisions I've made as a blogger. The site has only grown since he's been on board. I think it's safe to say we all love him.
Taylor is also one of the strongest people I know. He went through the terrible battle of living in hospitals for a few years. It was a very challenging time for the entire family. I won't give away his story, but I know this guy is amazing.
We hope you stick around and hang out with us! Catch us LIVE on our Facebook page! We started price comparing at stores which is fun.
Hang out save money and laugh while you are here.
We hope to see our team fill up even more over the years!
Use the form below to contact us to submit a deal or inquire about sponsored posts.
Read our Privacy Policy Here. 

 
CLICK HERE FOR MORE BJS DEALS!  Come Hang and Score Deals with us on Tiktok too!