Every year the kids go back to school parents feel relieved, overwhelmed, and a whole mix of emotions.  Whatever your situation or feelings are when it comes to sending your kids off to their first day of the year, I have 12 awesome free printables to help you get off to a great start.
The printables below will keep you organized, give you inspiration for meal planning, put a smile on your child's face with a joke, or a thoughtful lunchbox note, or even create a super cute and fun book exchange party. 
READ OR PIN FOR LATER INSPIRATIONAL BACK TO SCHOOL POSTS:
Back to School Family Routine
I know around here our Family Routine changes. We have our summer chores and school chores. If you want a jumpstart of ideas and printables for your family routine this school year check out the free printable back to school routine here. 
Back to School Lunch Notes
Don't forget to leave a little note in the kiddos lunch box! Check out these adorable printables from craftivitydesigns.com.
My oldest daughter is in love with telling jokes right now. We got past the stage of just making up anything with a funny word to understanding the pun of a joke now.
READ OR PIN FOR LATER:
These free printable jokes for the lunchbox are a great way to brighten your kiddos day. (Link to free printables is towards the bottom of the post here.)
Not feeling like using your printer ink on these? There is a cute set of lunch box notes on Amazon for under $8 here.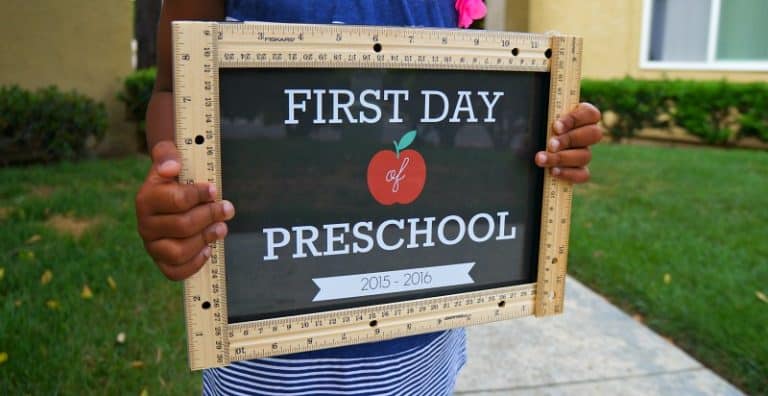 First Day of School Signs
There is so many cute first day of school signs you can print and add a little DIY touch too. The first day of school sign above is so cute with adding the rulers as the frame. Get the free printable and directions here. 
Here are a bunch of cute first and last day of school printables all the way from preschool to 8th grade.
School Lunch Meal Planner
This will be my first year having both girls in school eating lunch! Which means I am taking advantage of this free printable to organize the girl's lunches. I almost always write out our meals for the week so why not do lunches too?
Head here to grab your free lunch box meal planner.
Back to School Lunch Meal Plans
If you need ideas for your children's lunches Tracie from Penny Pinchin Mom has a fabulous printable for you.  She breaks it down into veggies, main course, beverages, and sides. Get your free printable here. 
Or maybe you just need to change the way you have been planning the kid's lunches. Elisa has an awesome way to get out of your PB& J rut for the kid's meals. It's given me inspiration to prep my kids and my husband's lunches this week. Check it out and get your free printable here. 
Are you wanting to come up with creating healthy meals for the kid's lunches? I could just sit and stare at these beautifully created menu ideas for kids.
If your child tries things based on looks, this is a great idea to get the kids to try something new. Maria has done an amazing job of showing you how different items can pair together to create a healthier lunch.
Back to School Games
To get the kids excited about school print out this cute Back to School Bingo card. 
Or for the older kids a Back to School Word Search here.
Book Exchange Party
To really kick off Back to School or end your summer with a bang this idea is just too cute not to share. Even if you think you can't plan a party like this, just scrolling through the pictures of this party planning is worth it to spark your creative side.
You can have your child's friends over for a book exchange back to school themed party. This post comes with printables to get you going in the right direction.
Back to School Password Tracker
We all know you must have a different password for every single thing you do now. Practically everything you do has a login page. If your child uses a system like a Classroom dojo you will have a login and password.
Print this free password tracker so you can keep it all organized this year. Save yourself from creating a new password every time you try to log into a website.
PLUS get our very own FREE Printable Back to School Supply Stock up Price Sheet Here. 
I hope you found at least ONE of these free back to school printables useful. If so leave a comment below telling us your favorite one. Remember your comments are entries to win a $25 BJ's gift card each week!
Don't Forget to Pin It! 
CLICK HERE FOR MORE BJS DEALS!  Come Hang and Score Deals with us on Tiktok too!  $20 BJ's Membership Deal HERE
MyBJsWholesale may earn a small commission via affiliate links in this post.  Read  full disclosure here