I'm here to tell you I gave the whole thing a try, and I have some honest feedback on what it was like. It's been a long time coming. I, a BJs member, am giving Instacart ago!
If you are a BJ's shopper be sure to sign up for my newsletter- we share daily coupon deals, new items and tips to save at BJs.
With over 500 posts to my name in just five years at mybjswholesale.com- (and counting), today is finally when we dive into this partnership with Instacart – one that has proven controversial for both parties involved.
You will need a BJ's membership to use Instacart with BJs Wholesale club. However, you can get a discount on BJ's membership here. That's only $2 per month.
It was a snowy cold day, and my youngest daughter was on day two of being homesick. Of course, my kids seem to stay home on the days I have BJ's trips planned.
We were on our last roll of toilet paper, and I decided to see if I could try Instacart.
It's been over a year since I compared prices, and I was pleasantly surprised at what I found.
The website is very user-friendly. I find it easier to navigate than BJs website. It was easy to find coupons and add items to my cart.
All the items I added to my cart were the same Price if I was to walk into BJs and purchase.
This was exciting and finally makes sense.
Now I can justify the delivery fees. Except, myself and others in our Facebook group noticed something.
I have a video below of my experience. Otherwise you can scroll down for the review and questions.
Here's What I ordered with Instacart.
Berkley Jensen Bath Tissue $18.99 ·
Meadow Brook Milk, 2% Reduced Fat $2.97 ·
Chobani Non Fat Greek Yogurt, Vanilla Blended $4.99 ·
WELLSLEY FARMS GALA APPLES 5LB $4.99
Berkley Jensen 160-Sheet Choose-a-Size Paper Towels, 12 pk .$15.99
Wellsley Farms Sharp Yellow Cheddar Cheese $6.49 ·
Thomas Original English Muffins$5.79 ·
Banana 3 lbs. $1.49 ·
Land O Lakes® Land O Lakes Half and Half $2.29
Items Subtotal $63.99
Sales Tax $2.80
Tip $3.20
Had $50 in Credits ( If you refer five friends, you will get $50 too. 5 friends is the max limit )
Final Price: $19.99
Now, this, for me, was an excellent deal because I had the credits, which I had no idea about. Sadly each account only lets you refer five people. But, if you sign up, it's a great way to share on social media with your friends.
The delivery fees were waived because I used a code. You will also get free delivery on your first order here.
Before you continue, I noticed a SIGNIFICANT difference in Price if I went through BJs.com and Instacart.com. Meaning you need to go through BJs.com and hit the same-day delivery to get the same IN store prices. If you keep scrolling, I have pictures and explain this in detail.
If you are curious about BJ's paper towels, we made a comparison here.
MY INSTACART EXPERIENCE WITH BJ'S WHOLESALE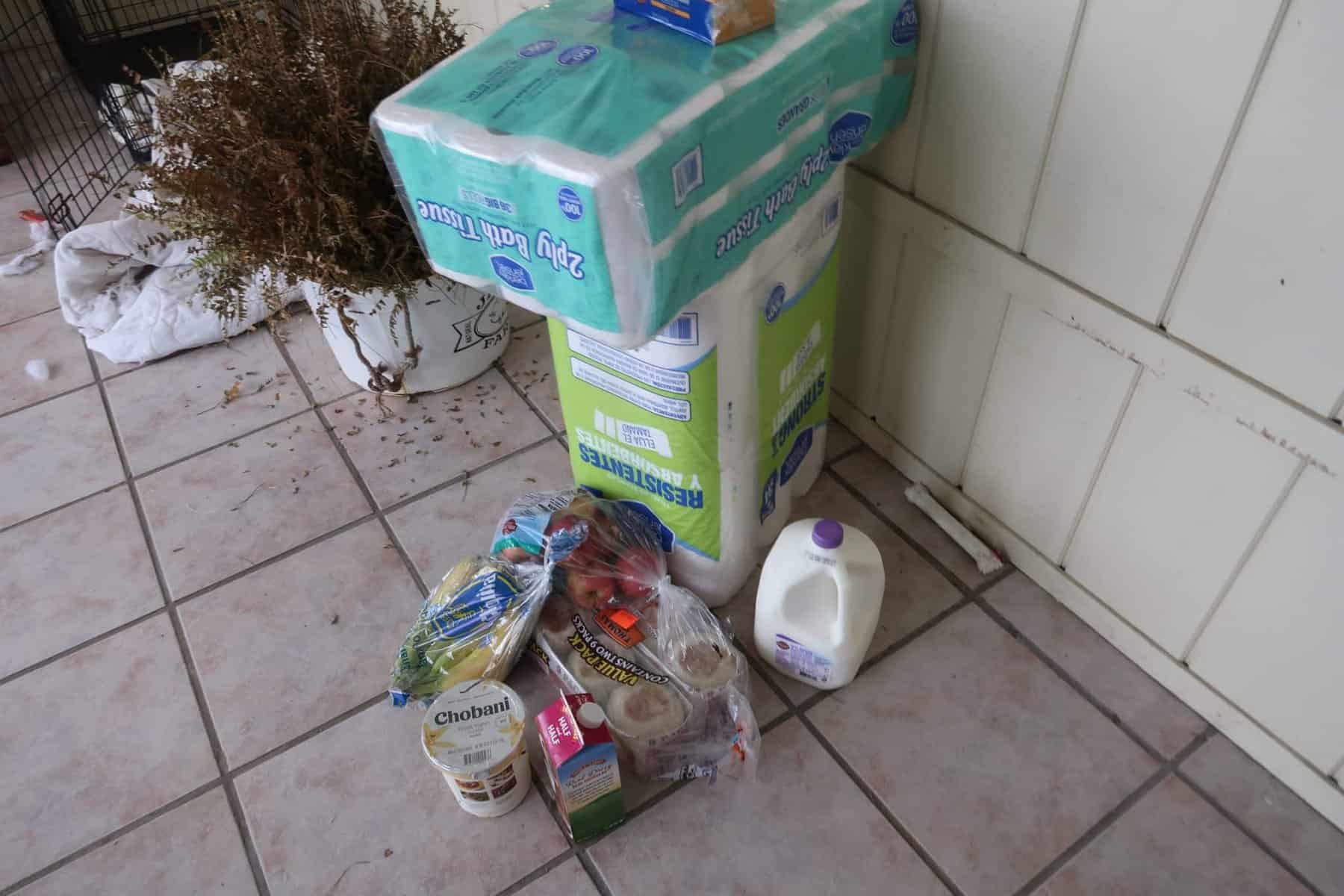 I chose the within two hours for a delivery time. It was awesome. I was notified when the shopper was in the store. When the shopper left the store and was on the way with a time they were coming.
My order was set to be delivered at 12:45, and she was right on time.
The website is adorable to use. I find it user-friendly and easy to access past orders. However, you will need to create an account if it is your first time.
I was highly impressed with the friendliness of the shopper. She brought my groceries right up to the porch and then got the rest of the items in the bag. She first brought up the HUGE packages of paper towels and toilet paper.
She had her own reusable insulated bags. When you use Instacart at stores without bags, you can choose to be charged for bags if you want to keep them. So for me, it wasn't a big deal to have her unload the items right on my porch.
I was already on the high of having someone do my grocery shopping and deliver it to me.
Overall I recommend Instacart. If you need a break from grocery shopping, this is a treat. If you are unable to get to the store, this is a lifesaver.
I suggest always looking for a free delivery code FIRST to save money. The tip, in my opinion, is well worth it. Also, now that I know the items are not marked up, this is a great option.
After you get your order, you receive another text asking how your service was. You can rate it by stars and quickly leave a review.
This way, if you are not happy with the service, you can let them know. For example, I gave my shopper five stars. She was awesome.
I loved getting the text updates on when she was arriving. Instacart shoppers are not supposed to leave groceries if no one is home, so schedule when you know you will be there.
You can choose specific times as well.
BJ's Wholesale Club does charge a flat $14.99 delivery fee if you don't have a free delivery code to use.
COMMON QUESTIONS:
Can you use BJ's coupons with Instacart? You can not use the BJs coupons in your booklet or through the BJs app with Instacart. Instacart has its coupons you can clip. However, these are not always lined up with the same in-store coupons.
Do you need a BJ's membership to use Instacart? Yes, for same-day delivery with Instacart, you need an Inner Circle, Business, or Perks BJs Membership.
What Can You Pay With? The Payment methods with Instacart are all major US credit and debit cards, Google Pay, and Apple Pay.
You can not use store gift cards or prepaid credit cards.
Will you still get perks rewards? Unfortunately, you will not earn any perks rewards when you purchase items through Instacart.
Where can you see pricing for retailers? Like I said above, if you go through the BJs website, you get in-store prices on Instacart. If you go to Instacart.com, you will pay higher costs at BJs.
"Beneath the retailer's logo at the top, you'll see the pricing policy: "Everyday Store Prices," "Higher than in-store prices," or "View pricing policy." You can read the full pricing policy on the Instacarts website.
Look at the side by side where you can find the info on the pricing.
As a side note, I tried this for Aldi, and both platforms offer the exact Price. Also, I tried it for Tops Markets, a local grocery store near me, and it has a view pricing policy whether you came from the Tops website or straight on Instacart.
So this is something to take note of if you are planning on using Instacart with BJs.
I would love to hear from you. Have you tried Instacart? Will you be trying it now after this review?
Any questions you have use the comment form below and I'll get back to you.
CLICK HERE FOR MORE BJS DEALS!  Come Hang and Score Deals with us on Tiktok too! 
MyBJsWholesale may earn a small commission via affiliate links in this post.  Read  full disclosure here