Welcome! Are you new to the club and wondering where to find BJs coupons? One of the questions that new members in our Facebook group ask is, where do you find BJ's coupons?
Once you are a member, there are a few different ways to get your BJ's coupons.
Here is what you need to know…
Members are mailed a monthly coupon book called the Member Savings Book.
If your coupon book does not arrive, call your local BJ's and ask if they have any extra. My location graciously leaves extras right on the counter, but just ask if you don't see them. You should also call their member service department to see if your address is correct, etc. The number is: 800-BJS-CLUB (800-257-2582)
Watch your snail mail box.
BJ's also sends a quarterly magazine called the BJ's Journal. (*Update – as of March 2015, the BJ's Journal will be published digitally. So you should still be able to get a copy at the service desk at your club. However, they won't be mailing them out.)
Periodically, they send additional promotions and coupons through the mail.
You can expect to receive unique family and baby coupons, flu season books, and a Black Friday catalog. I get coupons for items my family often buys at least once a month.
Register for their email list.
A few years ago, they experimented with free samples through their email newsletter, including high-value coupons. Sign up to receive emails from BJ's Wholesale Club on the top of their web page. In the past, I have received coupons off the entire order, such as: Save $5 Off $50, or Save $10 Off $100!
Check the displays near the entrances of the club for coupons printed on 8.5 x 11 sheets.
New flyers are put out every two weeks near the store's front entrance. They like to call these "Front of Club" coupon booklets. I scan the entire brochure onto the blog and write up the coupon matchups here.
You can clip new in-club coupons every month. These coupons are the same as those you find in the monthly book (Member Savings Book) and are valid all month.
However, these are not ALL of the coupons from the Member Savings Book. In addition, at the end of the month, there are a few days of overlap where the current month and the following month coupons are available to clip.
We call this double coupon stacking and share all the deals on the blog daily here.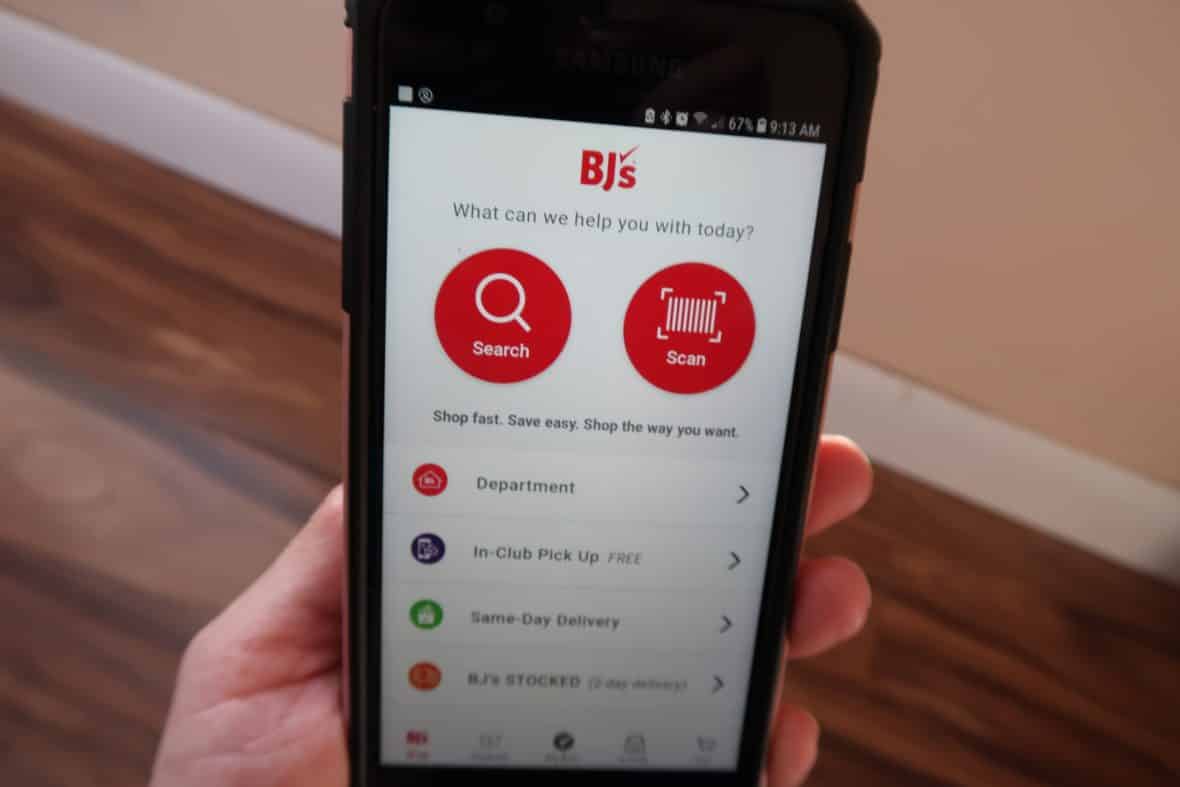 Download the BJs App
If you don't want to clip coupons on the BJs website you can download the BJs app to clip coupons and load them to your membership card. My favorite thing about the BJs app is being able to scan items in club and see if there are any coupons available.
Although I find it doesn't always pull up every coupon. If you have manufacturer coupons you will still need to check this blog daily for coupon matchups.
Membership is $110 vs. $55, but they pro-rate membership if you are in the middle of your year. We joined about halfway through our membership year, and our first reward payment covered the cost of our membership.
If you spend $200 or more there each month, this reward program would be helpful to you. Members are allowed to redeem their rewards at the register.
Every time you earn $10 in awards, you have the option to use at checkout,
You can find rewards membership deals here.
BJ's accepts printable coupons from the Internet.
You can print coupons right from this website. Just look for the "Print Coupons" link in the top bar, or start here.
Suppose you are a fan of P&G items; I highly recommend signup up for the P&G rewards program. It's free and available online. In addition, BJ's frequently runs P&G promotions to stack coupons to get a better deal.
Bonus Tip:
I keep a grocery log of unit prices between my other supermarket and BJ's to know if I'm honestly getting a good deal. And yes, I travel with a calculator to do on-the-spot checks.
But after a while, I can tell immediately which is cheaper since we buy the same products all the time.
Do you have any questions?
If so, send me a note or leave a comment below. I'm happy to help you out!
CLICK HERE FOR MORE BJS DEALS!  Come Hang and Score Deals with us on Tiktok too!  $20 BJ's Membership Deal HERE
MyBJsWholesale may earn a small commission via affiliate links in this post.  Read  full disclosure here