The new school year is here, which means your kids will be back at school, and your daily schedules will become a little less hectic. But that doesn't mean you have to settle for boring lunches and snacks. Here are eight super-convenient snacks to grab at BJs this month.
This is an easy snack to grab and go. And being a BJ's member, we can stack coupon savings. Right now, there are THREE coupons to stack. You can see the breakdown here.
They end up being $0.72 each.
Cheez-It Snapped is still a newer snack. You can save $2 at BJs when you stack coupons here.
Nutri grain bars are a family favorite. Check for the limited edition of Pumpkin Spice. You can get traditional flavors at BJs too. There is a $2.50 off coupon to help us save too. Expires 9/6.
I love when the individual bags have a BJs coupon. It helps with portion control for us adults and is easy enough for the children to grab and go. Right now, you can save $1.50 off this box until 9/6.
One of my daughters loves these, and the other hates them. If they do, BJ's is a great place to buy these because the price is lower than local grocery stores. Right now, there is a BJs coupon for $3 off a 16 count pack.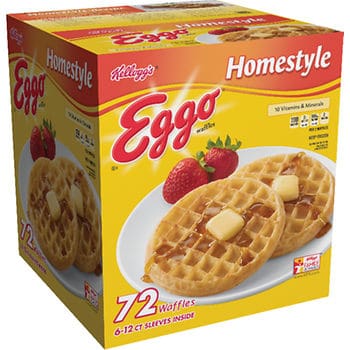 Eggo Waffles a simple and quick breakfast. BJ's has its own brand of Waffles too. Right now, if you purchase, you will save $1.50 off with a BJs coupon until 9/6. Makes each box $8.99.
My kids go crazy for these! Grabbing them at BJs is cheaper than our local grocery stores by far. You can get this box for only $8.99.
Another kid favorite! These are a great price at BJs, and there is a $2 off BJs coupon to sweeten the deal until 8/23. Even without a coupon, they are cheaper than Walmart.
Snack Ideas to Make
For more snack ideas for your kids to try, make Peanut butter sandwiches. All you need to do is heat some peanut butter on the stove until it's warm and smooth. Then, spread it like normal between two slices of bread, with or without jelly.
Throw in a cookie for variety. Kids especially love adding Oreo cookies! Cherry pie filling always makes a tasty sweet treat as well.
Pita chips are another option for a healthier treat for back to school. Layer your child's favorite flavors of hummus in a small zip-lock bag. Top with pita chips and voila! If you're looking for something to spark that afternoon pick-up, Puma Light Sesame Street Kids is perfect for your kids. It tastes great, and they come in kid-friendly cartons.
Each member of the family will enjoy this next treat. After a game or practice, there's nothing like a slice of cold watermelon to quench a child's thirst. Grapes are another great option for small snacks.
Blueberry Muffins flash-frozen from BJs is always my go-to item when making breakfast on the run and need something tasty but fast. These muffins are huge and affordable. Check out the best bakery items to score at BJs this fall here.
Whatever you may choose, be sure to pack your kids something they will love. The happier they are when lunchtime rolls around, the less likely it is that you'll hear any complaints at dinnertime.
For more snack ideas to make yourself visit my post here.
Be sure to check out more of the latest deals at BJs here.
CLICK HERE FOR MORE BJS DEALS!  Come Hang and Score Deals with us on Tiktok too!  $20 BJ's Membership Deal HERE
MyBJsWholesale may earn a small commission via affiliate links in this post.  Read  full disclosure here