Last year I wrote an article comparing the individual snack bags to the big bags at BJs. Wondering if the higher price tag was worth the time saved. Is it really cheaper to buy a bag and package it all up into snack size bags?
The answer depends. It is slightly cheaper to buy the big single bag of snacks at BJs, but if you opted for the multi snacks you are paying only 2¢ per bag more on average. Many BJs members in our Facebook group agreed the extra cost was worth it. You can see the article with comparisons here.
One of the benefits of shopping at BJs is the coupons they offer. It's not just BJ's store coupons, but they allow manufacturer coupons to be used in ADDITION to their own store coupons. ( If you are new to couponing at BJs, and this is exciting, I have a whole list of all the coupon stacks available at BJs and other retailers here for you)
You can see our complete FAQ page here. Or read the official BJs coupon policy here.
Many of the snacks listed below have clipless coupons during back-to-school time. August/September, you will see almost all the multipack snacks on sale.
If you are reading this post and it's not during back to school time, be sure to use our deal finder tool here, to see if any of these items have coupons and are on sale. You can always use the coupon database to search for manufacturer, e-coupons and BJs store coupons HERE.
This is a new snack item at BJs recently. Typically you only see the big 40 oz. bag of Traditional Chex mix for $6.99 at BJs. If you want a variety you will have to grab the Chex Mix Classics snack size bags. You get 30 bags that include 10 Cheddar, 10 Bold and 10 Traditional.
Each bag is 1.75 oz.
You are getting 52.5 oz for $8.49. Or you can pay $6.99 for the 40 oz bag and still have to package them up and buy the Ziploc bags and it's all one flavor.
Now through September 5th, 2018 there is a $1.50 clipless coupon. Basically, a clipless coupon in the BJ's members world is a sale price or instant savings.
You pay $8.49 for 30 bags.
All you need to do is have the kids grab one or you grab and toss it in their lunchbox! You are paying 28¢ a bag! Cheaper than the vending machine.
Wondering how to save money at BJs without cutting coupons?! Read my post here.
If your kids love the gummy snack check out the price of Annie's Organic Fruit Snacks Variety pack at BJs Wholesale club. This snack has 42 pouches with four different flavors of Bunny Citrus, Berry Patch, Tropical Treat, and Strawberry.
Regular price at BJs is $12.49 for these organic snacks. There is almost always a BJs coupon for this item. Right now through September 5th, you can save an extra $2.50.
Plus when you search the coupon database you will find Annie's printable manufacturer coupons to stack with it.
A few details from their website:
100% daily value of Vitamin C
Non-GMO, no artificial preservatives and no high-fructose corn syrup
Naturally gluten-free
Entenmann's Little Bites oh these have a memory in my heart. About a year and a half ago I bought these for my girls for the first time ever. I wasn't a fan of how much sugar they have. I was a little bit of a stickler on how many they could have in a week! HAHA, so one day when I'm cleaning their room, I looked in their closet and found FOUR empty packages of Little Bites.
When I turned around their two little faces looked at me this was when they were 3 and five, and said: "Mommy, they were SO good."
It was an interesting moment. One I can laugh about now, but at the time I thought oh my gosh.
So I like to treat the girls to these once in a while and when BJs has a coupon to stack with a manufacturer coupon they are the best deal.
Inside these kid-favorite snacks are 20 pouches. The original price is $9.49. It seems every other month BJs has a $1.50/1 coupon off Little Bites.
You can choose from Party Cakes, Cookies and Cream, Blueberry Muffins, Strawberry yogurt, Fudge Brownies, or my kids favorite Chocolate Chip.
Now through Sept. 6th, 2018 you can save $1.50 on these with the BJs coupon and stack a $0.50/1 coupon here.
Your final price is $7.49 or $0.37 a pouch.
What kid doesn't like Goldfish crackers?! This new variety of snack pack at BJs comes with 45 little bags. You get 15 packs of Flavor Blasted Xtra Cheddar, 15 packs of Rainbow, 10 packs of Pretzel and 5 packs of the Vanilla Cupcake.
The original price is $11.99. Keep an eye out for coupons on this one coming in the next BJs booklet.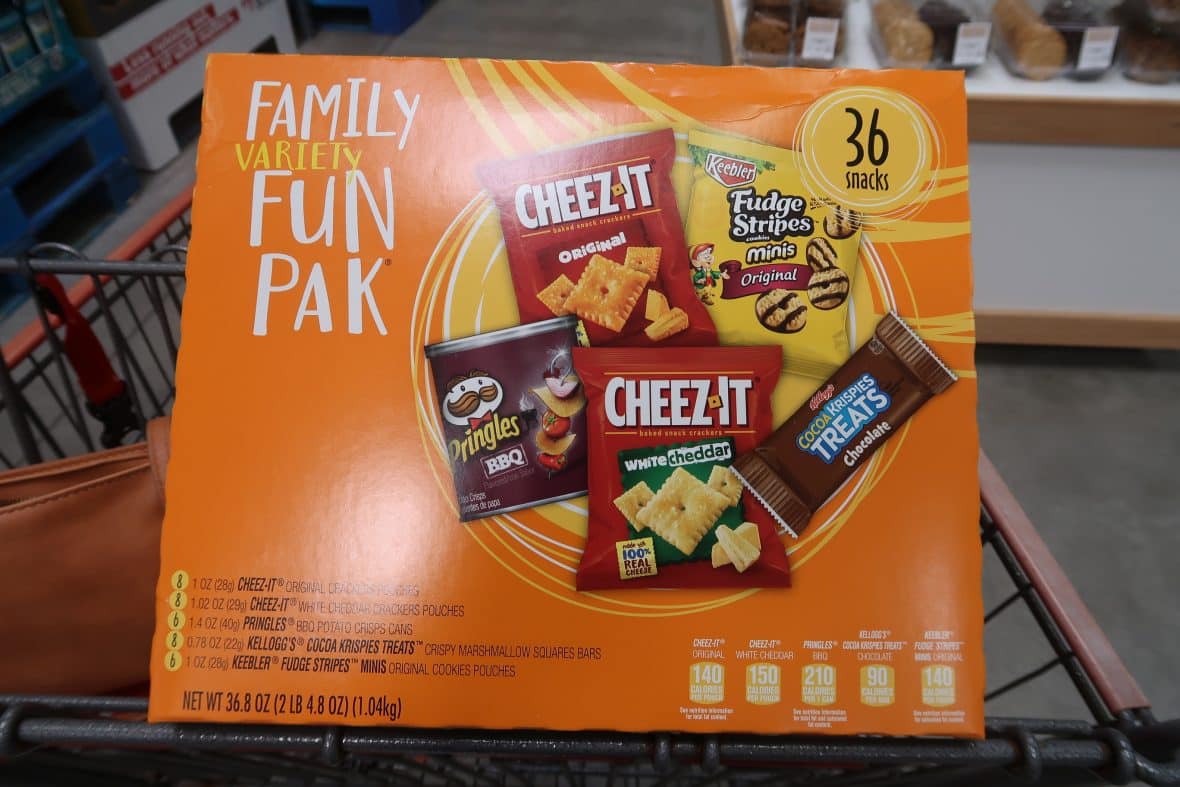 Another new snack item at BJs! This one gives you a little more variety instead of buying so many boxes in bulk. There are 36 snacks in each box priced at
Inside the box there are 8 Cheez-It originals. 8 Cheez-It White Cheddar. 6 Pringles BBQ Chips. 8 Kellogg's Cocoa Krispies Treats. 6 Keebler Fudge Stripes Minis.
This item may not be carried year-round.
[EmailOptinTopofpost]
The Family Fun Pak is priced at $11.49. There should be a BJs coupon coming for this in September 2018 booklet.
Cheez-It fans can snack easily with this variety box. It qualifies for the box tops points as well. You can earn an extra $5 when you buy 2 participating products at BJs with Boxtops. More information on the promotion is here.
In this package of snacks, you get 22 original Cheez-its, 15 White Cheddar, and 8 Cheddar Jack.
$11.49 is the original price but again always keep an eye out for BJs coupons by checking the coupon database here.
Welch's Fruit snacks are popular for families today. Made with real fruit you get 80 pouches for $10.99 regular price. Again this item has a BJs coupon frequently. You can buy this item online too.
Now through Sept. 5th you can use this BJs coupon-$2.50/1 Welch's Fruit Snack Snacks BJs coupon (exp 09/05/18)
If you are looking for dried fruit snacks this is your variety snack option at BJs. Brothers All Natural Fruit Crisps Variety Pack, 3.97 oz. are priced at $9.99 all the time. Currently, until Sept. 6th, 2018 there is a $2.00 clipless coupon.
You can grab it for $7.99 right now online too.
Nabisco has a nice variety snack pack at BJs. 40 total packs in this box. You will get 8 Teddy Grahams Honey, 8 Teddy Grahams Chocolate, 12 Justice League crackers( think Graham Cracker) and 12 Barnum's Animals. ( Which are now out of the cage on the packaging!)
Price for 40 snack bags is $11.99.
There is a $4.00/2 Nabisco Snacks BJs coupon valid through Sept. 5th, 2018. If you bought two boxes you would pay $9.99 per box. Or $0.24 a bag.
GoGo Squeez is kids' favorite and parents' favorite for on the go. The twist-off tops are easy enough for little hands and they are wide enough to not splash all over. Prices range from $9.99 to $10.99 depending on the one you choose. Organic or not.
BJ's has a pretty good variety of these snacks. You can choose from Organic Applesauce, Organic Fruit and Veggiez and Yogurt.
You will want to check the coupon database or the front of club coupon book for current BJs or manufacturer coupons on GoGo Squeez items.
Now through Sept. 5th there is a $2.00/1 GoGo Squeez Applesauce or Fruit & Veggiez Item BJs coupon (exp 09/05/18).
Dole fruit cups are a favorite snack for the lunchboxes in our house. The kids enjoy them but the tops can be a little tricky. So thankful for the lunch helpers!
I find BJs has great deals on these with a coupon paired. Here is a recent one I saw the Dole No sugar added Mandarin oranges are only $6.49 for 16 count.
Dole frequently has manufacturer coupons out. You can search for the latest ones in our coupon database here.
Those looking for a little protein boost in the lunchbox without a mess, Jif to Go is your go to.
These little individual cups are perfect for dipping apples, crackers or whatever your heart desires. Many times you will see a clipless coupon for these. Right now they are priced at $5.99 for 36 cups. That is only $0.16 per cup!
[convertkit form=5035624]
If you love Peanut butter balls this is your new snack! I've priced checked at our local grocery store Tops, Target and Walmart and BJs is by far the best bargain.
In this 24 oz. bag you get 5g of protein per serving. Regular price at BJs is $9.99. Always check for a coupon.
The Wellsley Farms Animal crackers have been a kid favorite for a while. The price is amazing. This 45 oz jug is only $4.99 all the time. Every few months they have clipless coupons for $1.00 off making it only $3.99. It's a deal and the jug can be reused for almost anything.
If you are new to shopping at BJs, when you buy their own store brand there is a 100% money back guarantee. Take them up on their offer. If you hate something to bring it back and get a refund.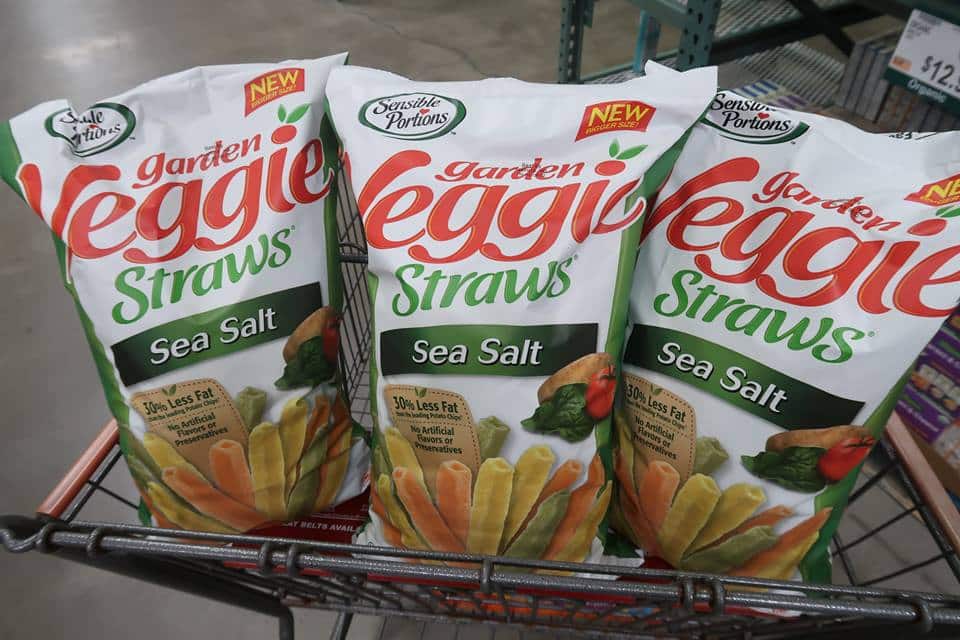 These days parents are trying to sneak veggies to their kids any way they can. Hey, we'll try it even if it's powder 😉 if you want ideas for sneaking real veggies into your kid's meals check out our post here.
Sensible Veggie Straws are a tasty alternative to potato chips. The price is only $4.99 regular at BJ's Wholesale club. Please remember prices will vary based on region. BJs has coupons for this item every couple months.
Right now there is a clipless $1.00/ BJs coupon until Sept. 5th.
I couldn't end the post without touching on produce at BJs. Grapes are a pretty good bargain year round. Strawberries are usually competitive with our local grocery store.
You can never get cheaper lettuce, spinach and such anywhere else besides at wholesale clubs.
There are many items that are cheaper at BJs. If you want to see items I think you should never buy at BJs because they aren't worth it go here.
If you want to see items that are always a good buy at BJs in addition to these snacks ( think beyond food) go here.
What is your favorite kid snack from BJs?
CLICK HERE FOR MORE BJS DEALS!  Come Hang and Score Deals with us on Tiktok too!  $20 BJ's Membership Deal HERE
MyBJsWholesale may earn a small commission via affiliate links in this post.  Read  full disclosure here