Are you a BJ's member? If so, then you know that shopping at the club can be a great way to save money. But it's also easy to overspend if you aren't paying attention.
That's why I wanted to share some tips on budgeting for your BJ's trips. You can get the most from your membership without overspending by following these simple tips. So let's get started!
Not a BJ's Wholesale club member? Sign up for only $25 for the entire year here. The regular membership price is $55.
Make a BJ's shopping list of the items you need before you go
A key way to be an effective BJ's Wholesale Club shopper is to make a list of the items you need before you even set foot in the club. This can save time and help keep your spending in check.
Start out by writing down the items you frequently purchase and then check it against the BJ's coupons for any daily deals that are available.
That way, when you enter the middle section of new items , you know exactly what you need and what is within your budget. Have fun while shopping and remember – being a BJ's member means savings too!
I use the BJ's app or my online account at bjs.com. I'll add in the items I know we need and clip any available coupons for those items. Then when I get to the club, I open up the app and look at my shopping cart.
Tap here for an in-depth look at how to use BJ's coupons online.
Set a budget for how much you're willing to spend on each item
Setting a budget for how much you plan to spend at the wholesale club helps you stick to what you need and saves your wallet! Of course, being a BJ's member means excellent deals, but knowing your limit before stepping foot in the store can help you make the right choices and avoid overspending.
BJ's is known for having its treasure trove section right in the middle near the front of the store. These are items that change out frequently and don't hang around.
This means members are excited and feed into the FOMO. Fomo is the fear of missing out, and it's a tactic used to show shoppers that inaction means missing out on something great.
Grab my Budget Planner below!
Remember, if it's not in the budget this month, that item will come around again sometime at BJ's, and even if it doesn't, you will be able to get it elsewhere. It's not a great deal if it means you go into debt for it and can't pay it off.
Have an idea of how much you plan to spend on each item so that it will be easy to stay within your pre-determined limit when the coupon fever hits. That way, you can get all the essentials with just enough room left over for that desired must-have item!
For even MORE tips, check out this video, I made about some key things you need to do before you leave your car to save money at BJ's!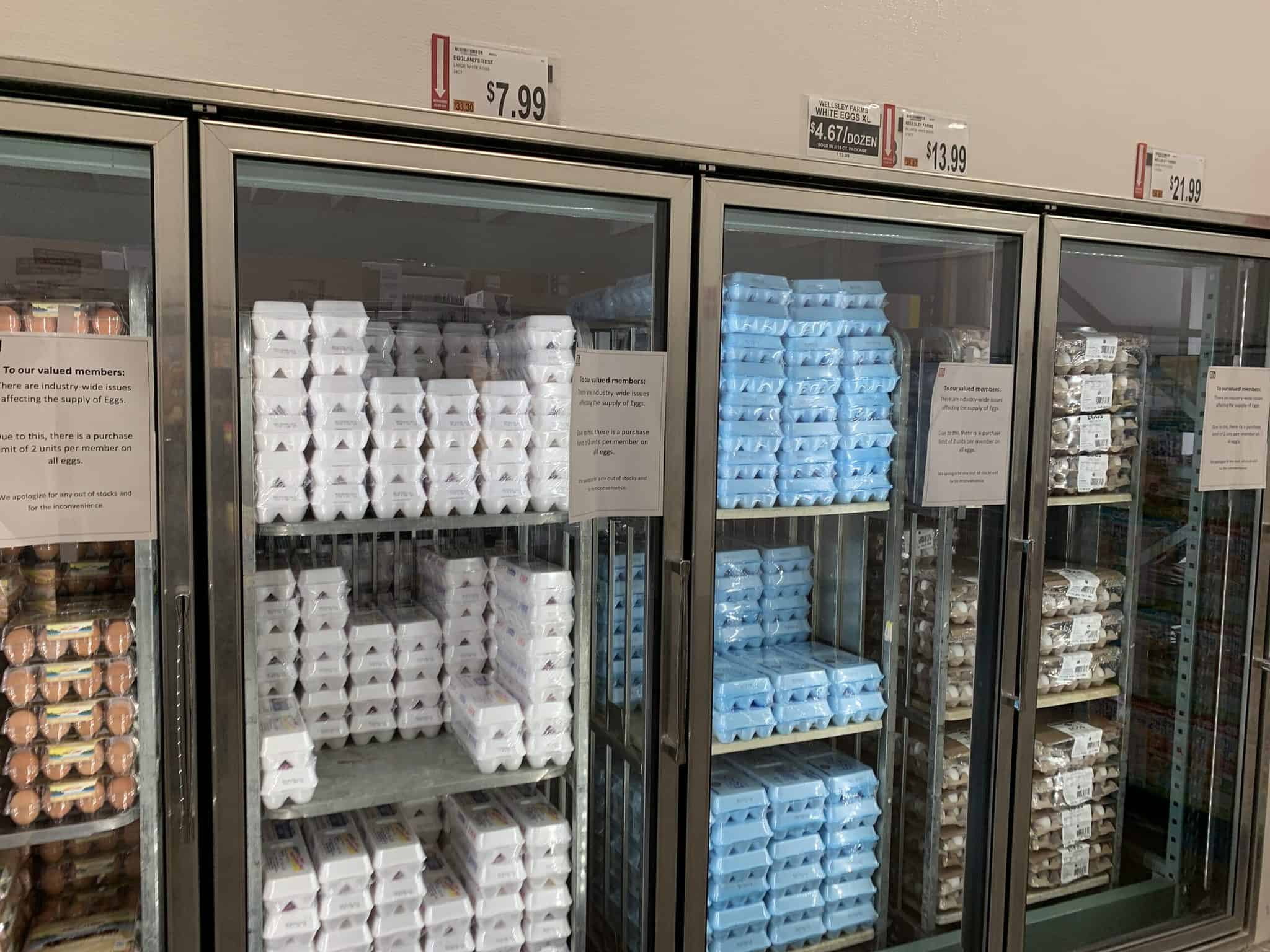 Stick to your budget by only buying the items you need
It can be tempting to buy more than you need when surrounded by all the fantastic products the club offers, but it's much smarter in the long run if you only buy what is necessary.
By only buying the items you need, you can keep your shopping trips cost-efficient and feel satisfied! Don't forget, BJ's has some awesome digital coupons, too – you can use these to ease up your wallet even more!
You already made your list now when you are in the club, you need to stock to it.
When shopping, try opening the calculator on your phone and typing in your top dollar amount. Let's say it's $300. You would type in $300, and then every time you add something to your cart, you deduct that amount from it. This helps you see the actual dollar amount and keeps you in line before you ge to the checkout lane.
If you made your list in the BJ's app( Tip 1), you can open it up and stick to that one too. You could even bring the exact cash that you need from the total in the list you made.
So let's say you made your BJ's list in the app, and your total was $280, including tax. Bring in that exact amount. Then there are no excuses.
Save money on your BJ's trip by using coupons and taking advantage of sales
Shopping at BJ's can be a great way to save money, but if you're not careful it can be easy to overspend. The key to sticking with your budget when shopping at BJ's is to make sure you use coupons and take advantage of their sales.
Look out for exclusive coupons that you can redeem in-store and online, and see if any of the items you buy have a coupon before you check out. Every day we look for coupon deals at BJ's to help you get the most bang for your buck. Every month or so, BJ's will have a few days where coupons will overlap; we call these double-dipping deals.
Since BJ's is the only wholesale club to accept manufacturer coupons, you can use a manufacturer coupon and a BJ's coupon on ONE item- we call these coupon stack deals. We share all the latest BJ's coupon deals here.
You can also join their rewards membership and earn cashback when making purchases. Remember that rewards memberships are more than the inner circle regular membership card.
We did a post to help you determine if a rewards membership is worth the extra upfront cost here.
You can also use money-saving apps such as Ibotta, Fetch, Coinout, and more! These are the top three I use every time I shop at BJ's. For more money-saving grocery apps I use tap here.
Take advantage of Free curbside pickup to avoid impulse buying
Shopping at BJ's Wholesale Club as a member can be an enjoyable and cost-effective experience. But, if you're not careful, it's easy to end up with items you don't need and spend more than necessary!
Thankfully, BJ's makes shopping easy and convenient with free curbside pickup. This service helps you avoid impulse buys, as you can order all your items online and pick them up at your convenience while never entering the store. Curbside pickup is convenient when we have double-dipping coupon deals as well.
You can use curbside pickup to help manage your budget and make better spending decisions when shopping at BJ's Wholesale Club.
If you are new to BJ's curbside pickup, read this how-to article.
Turn Off Automatic Renewal
Another tip for saving money by shopping at BJ's is to go into your BJs.com account and turn off automatic renewal. First, this allows you to assess whether shopping at a wholesale club is worth the extra membership cost.
To turn off automatic renewal:
log into your bjs.com account
Click My Membership to the left of the screen
Then toggle the off for the automatic renewal
Plus, there are always membership renewal deals that will save you money. So, to get the most out of your BJ's membership, turn off automatic renewal and look for the best deals before renewing.
By following these tips, you can make sure that you avoid overspending on your next BJ's trip. Budgeting and being prepared before you go to the store are crucial to saving money. Additionally, taking advantage of clipless coupons, BJ's, and manufacturer coupons can help you save even more.
Knowing your limits is also important to avoid spending too much money.
What other tips do you have for avoiding overspending at wholesale clubs?
CLICK HERE FOR MORE BJS DEALS!  Come Hang and Score Deals with us on Tiktok too! 
MyBJsWholesale may earn a small commission via affiliate links in this post.  Read  full disclosure here