Even though BJs wholesale club is a discount membership store- it doesn't mean you should pay their full price for every item there.
Nope as a deal mama who loves saving money and lives a 100% debt-free life, I've got some tips and tricks to help you save money.
When shopping at BJs, remember they are the only wholesale club to accept manufacturer coupons.
With the right timing and coupon stacking, you should never pay full price for these fourteen items.
BJ's Wholesale Club is a discount membership store, so it shouldn't be a surprise that they offer some great deals. With the right timing and coupon stacking, you can get your favorite items for free!
Whether you need body wash, cleaning supplies, or coffee, we'll help you find the best deal at BJs so that you can keep more money in your pocket. These items often go on sale every 8 – 10 weeks, which means there will always be an opportunity to save big when shopping with us.
If this sounds like something you want to do but don't know how to, feel free to reach back out, we'd love to chat about what options are available for saving even more money than what's mentioned below.
Or sign up for my emails below and learn how to coupon and save serious cash at BJs!
Here are 14 of the best things to buy from BJs without paying the sticker price.
Laundry Detergent
Laundry Detergent is on sale every 8 to 12 weeks at BJs, and there are always coupons available. BJs allows one manufacturer coupon per item stacked with a BJs coupon. Recently BJs will have times where TWO BJs coupons apply to one thing.
You can buy all sizes of laundry detergents without paying the total price. Even better is BJ's brand of laundry detergent runs coupons every 6-8 weeks as well.
You can stack manufacturer coupons on top of BJs coupons. If you are a fan of Tide, you can always print Tide coupons when you sign up for P&G awards here free.
As an example, right now, BJs Detergent Packs are only $6.49! We share all the laundry deals here.
Toilet paper
You should never pay full price for toilet paper! In the past, the BJs brand was a great deal, but recently they have gone up on price, and now I'm finding it is a better deal to wait for coupons on the other brands. Scott Comfortplus and Scott 1100 have manufacturer coupons frequently that you can stack with a BJs coupon.
The BJs Brand's regular cheapest pack is $19.99, making it $0.55 a roll.
Trash bags
Trash bags are on sale every 8 to 12 weeks. Plus, Glad brand tends to be in a lot of the special promotions offers running every three months.
Body wash
There are many varieties of body wash at BJ's Wholesale Club. This means this allows couponers options every couple of weeks. In addition, there are many manufacturer coupons online or in your newspaper inserts for body wash coupons. Some weeks are better than others, but this is an item I refuse to pay the total price at BJs.
We've been able to double stack coupons often for Dove body wash at BJs. So if you need body wash, give it a few days; it will be on sale at BJs before you know it.
Cleaning Products
Many of the cleaning brands at BJs often have manufacturer coupons. If you have a coupon for any of these items, add it to your list and wait for the following BJs coupon. It's only a matter of time before they go on sale again.
Plus, check your Ibotta and Fetch account.
Toothpaste
BJs carries many varieties of toothpaste, and there are always coupons available for them. If you were to buy the cheapest tube of toothpaste at BJs without a coupon, it would cost $1.59, which isn't terrible.
However, if you can combine the store coupon with a manufacturer coupon (there are many toothpaste coupons online), you could buy it for less than $1 a tube.
If you are an extreme couponer, I usually avoid buying toothpaste at BJs because you can get it free frequently at stores like CVS, Rite-aid, and Walgreens.
For more places to find coupons check out this article here.
Razors
This item goes on sale every 8 to 12 weeks, and there are always coupons available. You can purchase razors for as low as $1 per razor without a coupon, but if you can stack it with a clearance price, it's even cheaper. For example, check out this recent deal on Schick Razors at BJs- you pay $11.99
Shampoo
Typically both of these items go on sale every four weeks. You can even purchase BJs brand for $5.99 for a two-pack and score a deal when they offer a coupon on it. I find newspaper inserts to have the best coupons for hair care products as well as coupons.com.
Many times BJs will have double stacks on shampoo and conditioner.
Deodorant
In any given 4-6 weeks, you will see a good deal on deodorant. It's the perfect time to stock up and save some money. If there aren't coupons available online, wait for a sale and combine it with a manufacturer coupon from the newspaper. Often Degree and Dove are the top two to score a deal.
Check for recent deals here.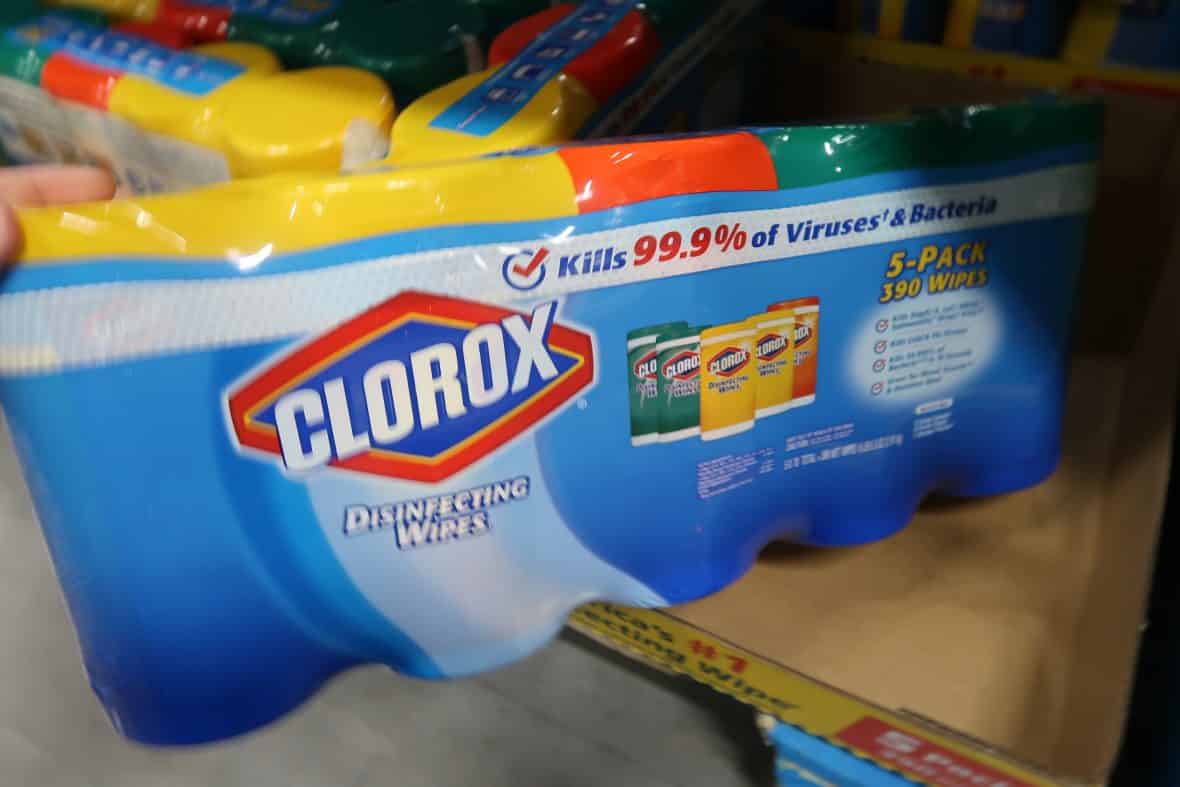 Cleaning supplies
Any cleaning supplies that you may need are good to buy at BJs. Just wait for a sale and stack it with one or two coupons (there are many to choose from), and you've got yourself a fantastic deal.
For the best cleaning items to buy at BJs, check out this article here.
 Coffee
This is one of the most common items to buy at BJs without paying the total price. There are always coupons available, so wait until you see a good deal and stack it with a coupon from the newspaper inserts. This is also an excellent item to purchase when it goes on sale during the holidays.
If you are a fan of Starbucks coffee BJs is an excellent place to buy it. I find a $5 off Starbucks coffee BJs coupon almost every time we have a coupon book, and they are often included in bakery promotions. So, for example, buy a Starbucks coffee, get Free Muffins or 50% off croissants, etc.
Click here for a review of my four favorite coffees to grab at BJs.
Right now, you can score Pumpkin Spice Starbucks coffee for $9.99! Reg. $20.99!
Skincare products
Just like with shampoo and conditioner, there are coupons available for skincare products. Just remember to wait until a good deal comes up to stack it with a coupon from the newspaper or coupons.com. The best part is the popular brands like Olay and Cerave offer manufacturer coupons frequently.
Search here for coupons. Coupons.com
Cereal
If you are a fan of Kellogg's cereal, never buy this item's total price at BJs. Kelloggs offers free printable coupons on their website, and if you are a Kellogg's Family Rewards member, you earn points for every Kellogg's purchase. You can turn those points in for gift cards, coupons, and more.
Kellogg's is now revamping their entire online program, making it even easier to earn cashback for items you buy at retailers.
Frozen Pizza
Pizza is a quick, easy go-to meal, and this one, you will find coupons for less than the other, BUT they are still there in every other coupon book, so about every 6-8 weeks.
We hope you found this post informative and will help you save some money in the future. If there are any items, we missed, please let us know! Have a great day and happy shopping!
CLICK HERE FOR MORE BJS DEALS!  Come Hang and Score Deals with us on Tiktok too! 
MyBJsWholesale may earn a small commission via affiliate links in this post.  Read  full disclosure here